As we countdown to the most magical time of the year, enhance your year-end getaway with yuletide nostalgia by visiting these enchanting cities for exceptional experiences, set to get you in the festive spirit of taking off.
Travelling at Christmas time is a great way to relax during this hectic time of year.
You won't have to worry about putting up and taking down the decorations, cleaning up the house for a huge group of people, or worry about spending hours in the kitchen cooking a huge feast. It is generally a little more expensive to travel at Christmas time (on top of having to layer more) but it is worth it!
16 Favourite Family Christmas Vacations
1. Japan
Japan is a great place to spend your Christmas holidays and there are many things you can do here. Tokyo goes all out with Christmas lights and you can see stunning light displays at Shinjuku Terrace City, Omotesando Hills, Yebisu Garden Place, and Marunouchi Naka-dori. Head to one of the many themed restaurants for a wacky Christmas Eve Dinner.
If you are dreaming of a white Christmas, then head to the northern island of Hokkaido and go skiing or snowboarding at Niseko. The area is well known around the world for its fabulous snowfall and conditions.
While I went to Hokkaido in Spring (early May) for cherry blossoms with my family, the sights will be equally spectacular in winter!
Read my full account of Hokkaido, getting around Hokkaido, and some of the famous things to try in Hokkaido.
2. Orlando, Florida
Orlando is a great place to head for Christmas with the family. The resorts go all out and there are many things to do and see. Gaylord Palms Resort offers "Ice" which consists of 2 million pounds of ice sculptures, and 4 ice slides. At Universal Orland Resort, your children can take hang out with The Grinch and all of the Whovilles.
Visit Walt Disney World Resort and you can experience Mickey's Very Merry Christmas Party, with complimentary cocoa and cookies. Sea World Orlando also gets into the festivities with trees decorated with choreographed lights to music and a Christmas Market that you can stroll through.
These theme parks are the all-time favourite with families, no matter the age.
3. The French Alps
Travel to the French Alps to celebrate an exciting snow-filled Christmas. Spend your days on the hills and your evenings enjoying the festivities of the area. Trois Vallees is a great place to go and you can witness Santa, his elves, and the ski instructors head down the hill on Christmas Eve.
The village of Les Menuire comes alive at Christmas and you can see streets lined with decorated trees, children's shows and entertainment, and listen to carols.
Visit Les Bruyeres for a quieter more relaxing take on Christmas. Stay at the Les Gets resort and you can visit the Enchanted Forest and explore the workshop and home of Santa. Be thankful that you have no mess to clean up as you enjoy an expertly prepared feast at one of the many restaurants in the area.
4. Vienna
The majestic Belvedere Palace offers a grand Baroque-style backdrop for the Christmas Village in the festive season.
The capital city of Vienna puts on a lavish and magical display of Christmas joy in the shadow of Baroque architecture.
Skate to your heart's content at the many ice rinks set up across the city during the winter months, including ones at the Rauthaus and Vienna Konzerthaus.
Take a little Christmas cheer home with some traditional handicrafts, artisanal gifts, Christmas decorations and special culinary delights like Vanillekipferl (crescent shaped biscuits) and Weihnachtspunsch (a spiced "Christmas punch").
These trinkets and treats are available at the many Christmas Markets such as the Christmas Village which stands against the historic Baroque-style backdrop of the Belvedere Palace and Schönbrunn Palace.
5. Zurich
The charming streets of Zurich transform and light up into a Christmas wonderland in the festive year-end months.
In the Swiss city of Zurich, treat your senses to wafting scents of cinnamon and mulled wine, beeswax and gingerbread as the Bahnhofstrasse (or main street) lights up with 12,000 glittering LED lights.
A sight to behold, do not miss the 15-metre high Christmas tree dripping with Swarovski crystals at the Christmas Market just outside the Zurich main station.
Complete the Advent experience by listening to Christmas stories while riding on the seasonal Märlitram – a tram adorned with fairy lights and drawings of angels as you cruise through the scenic streets of Zurich.
Read: The Best Hotels in Basel, Switzerland
6. Paris
The Avenue des Champs-Élysées of the City of Lights is a sight to behold come Christmas.
Where best to spend Christmas if not at the City of Lights?
Paris is a must-visit for a romantic Christmas experience.
Be amazed by Christmas lights – 150,000 Christmas lights to be exact, dotting the famed pathway of the Champs Elysées or book yourself a spot on the "Illumination of Paris" sightseeing coach tour to discover Paris' finest monuments illuminated at nightfall.
For families with children, ride on traditional maneges de Noël (or carousels) – an icon not to be missed in winter in Paris.
7. Amsterdam
Soak in the festivities and cruise along the iconic canals of Amsterdam as the capital lights up in the Christmas season.
Spot Sinterklaas, or Saint Nicholas, the character famous in Dutch culture who makes his appearance in parades all over Amsterdam.
Or catch Tchaikovsky's classical ballet "The Nutcracker" – a staple of the festival season with the family, at the Charkov State Opera & Ballet Theatre, and take a romantic Water Colours Cruise down the many canals in Amsterdam to see illuminated sculptures and installations by international artists.
For the music aficionados, delight in a fantastic collection of classical and choral concerts by the Royal Concertgebouw Orchestra lined-up for the Christmas season.
Read: 17 Most Festive Hotels in Europe to Celebrate Christmas
8. Venice
Venice, an unexpectedly quaint holiday destination in Christmas.
Venice, with its gorgeous canals, piazzas and ornate architecture, is quaint with traditional concerts and Christmas mass in Venice's iconic, snow-capped St. Mark's Basilica. 
Do not miss the main Christmas market at Campo San Stefano, and walk along the sunny waterfront of Zattere or cruise down the canals in a gondola for a winter treat, followed by a cup of rich cioccolata calda in any one of the many cafes Venice boasts.
9. Munich
Marienplatz hosts the oldest and biggest Christmas markets of the Bavarian capital.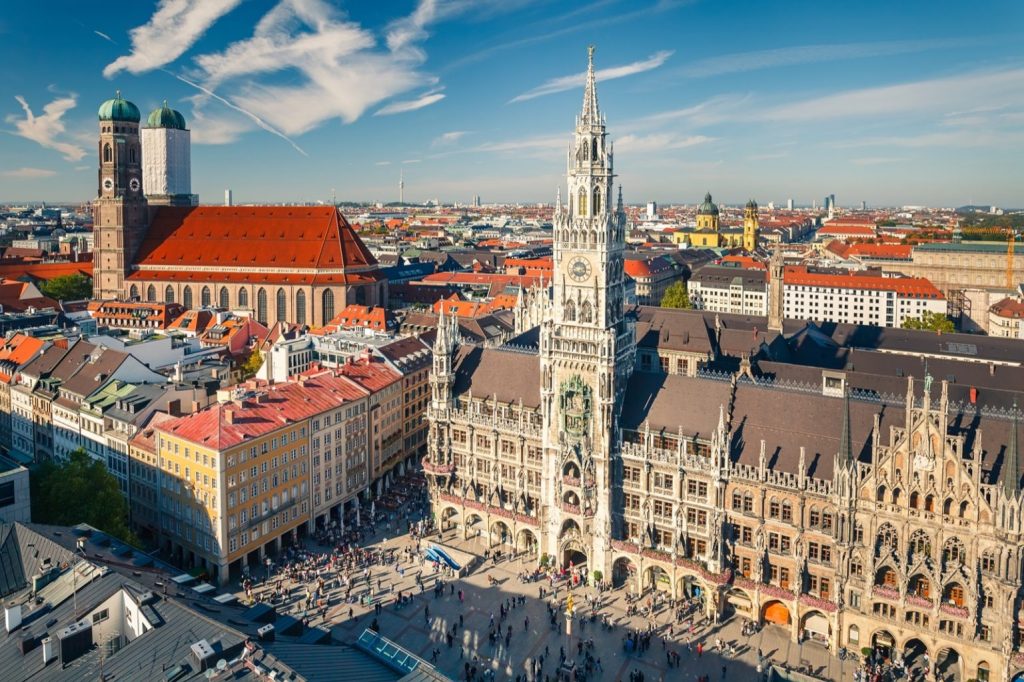 Be dazzled by the spectacular 85-foot Christmas tree on the Marienplatz (main plaza) of the Bavarian capital, and make a visit to the Christkindlmarkt, one of Munich's oldest and biggest Christmas markets, located in the heart of the city with 150 wooden huts and go bargain-hunting with the family.
At the Tollwood Winter Festival in Theresienwiese – a park well-loved by students and youth, enjoy lively concerts, entertaining circus acts, quirky handmade crafts and plenty of traditional food to complete the Christmas experience.
Read: A Tale of A Touching Reunion Across Continents, After 25 Years
10. London
London, one of the most visited cities of the world, is a remarkable one for the Christmas season.
Get a fast fix of the Christmas spirit in London by visiting the Winter Wonderland in Hyde Park, which will see the annual gathering of winter markets, festive fun-fair rides, ice-skating, meet-and-greets with Santa Claus, and the biggest outdoor rink in UK.
Check in at the Southbank Centre Winter Festival which boasts the Rekorderlig Winter Lodge – a Scandinavian-inspired two-floor pop-up lodge offering fire pits, Swedish food and hot and cold cider cocktails.
At Trafalgar Square, behold the spectacular sight of the capital's biggest Christmas tree, donated each year as a gift from Norway, and listen to the angelic Christmas carols performed in public by choirs.
11. Stockholm
Stockholm, encompassing 14 islands of the Baltic Sea archipelago, offers an island-hopping option for Christmas.
Spend a cosy Christmas in Stockholm with a Christmas light show at the Rosendal's Garden – an alluring greenhouse and garden embellished with magical fairy lights, or spend Christmas cruising through the Stockholm archipelago, dropping by the islands of Utö, Sandhamn and Vaxholm to visit traditional Christmas markets selling Christmas candies and sweet meats.
Twirl around the grounds of the outdoor ice-skating rink located in the center of the city at Kungsträdgården to add to an unforgettable experience this Christmas.
12. Budapest
The underrated capital of Hungary is filled with history at every turn, making it a memorable Christmas destination.
Budapest is home to one of the most charming Christmas markets in Europe. Located on Vorosmarty Square, the Christmas market is great for travellers looking for quality handmade gifts such as pottery, even clothes – with leather a specialty as well as traditional Christmas goodies.
Indulge in a relaxing bath at Széchenyi – one of Europe's biggest natural hot spring spa baths.
For a panoramic view of Budapest in full snowy grandeur, pop by the Fisherman's Bastion that overlooks the enchanting city of Budapest. Also find out why you should stay on the 9th district. 😉
13. New York City
The Big Apple, with its timeless traditions, turns into a Christmas wonderland come the holiday season.
Celebrate the most wonderful time of the year at the Big Apple by visiting the Bryant Park Winter Village, where you get to skate for free on the Bryan Park's 17,000-square-foot outdoor rink, discover the 125 holiday shops, or satisfy your holiday cravings at Public Fare, a rink-side pop-up restaurant serving coffee, snacks, sandwiches and soup throughout the day.
Join thousands of New Yorkers at the nexus of town to witness the Rockefeller Christmas Tree in its full glory – 78-foot tall, 10-ton heavy Norway Spruce illuminated in over 45,000 LED lights.
Of course, check out the beautifully decorated storefronts along Fifth Avenue and the Christmas light displays in Dyker Heights, Brooklyn.
---
For those looking for a Christmas with lots of sunshine, here are more travel destinations in the South you can consider this festive period!
Christmas Vacations in the Sunshine for Families
14. The Maldives
The Maldives are stunning anyone time of year and Christmas is a great time to go because you there is no rain this time of year. I went this January and managed to explore Maldives on a budget, using Airbnbs and staying in Maafushi!
If you are not one to celebrate Christmas, you will not find many Christmas festivities here as the country is Muslim.
Spend your time relaxing on the beach, exploring the coral reefs, and give water sports like surfing, snorkelling, scuba diving, and fishing a try. Waking up in a water villa resort on Christmas day will be like no other Christmas you've ever experienced!
Visit the capital city of Malé for some shopping. Explore the bounty at the Fish Market in the afternoon or early evening when the boats unload and you can pick up some fresh seafood to grill on the beach. There are also lots of mobile vendors where you can pick up, trinkets, jewellery and t-shirts.
15. Rio de Janeiro
A tropical Christmas experience awaits in the seaside city of Rio de Janeiro.
Rio de Janeiro boasts a tropical Christmas experience unlike any other. Head down to the Rodrigo de Freitas Lagoon to witness the world's largest floating Christmas tree towering at a height of 85 metres, with fireworks to herald in the festive season.
Indulge in an array of heart-pumping performances in Parque de Cantagalo located near the lagoon. Surely there will be that one performance that strikes the heart of each family member.
Then, treat your tastebuds to a uniquely Brazilian gastronomical Christmas adventure consisting of bacalhau (cod fish), rabanada (a dessert similar to French toast), smoked ham and plenty of champagne or red and white wine.
16. Brisbane
Brisbane city burst into life come Christmas, offering a plethora of festive activities suitable for families and couples.
Soak in the splendor of Christmas at Roma Street Parkland's Enchanted Garden, where a spectacular lighting display transforms the park's Spectacle Garden.
Be sure to catch the Christmas Parades happening daily from 16 to 24 December that stretches from Queens Plaza to King George Square.
---
Winter holidays are a great excuse to travel with your family to – depending on your preference – colder or warmer climates. The Christmas atmosphere is tons better in Europe than Asia. Think mulled wine, Christmas markets, winter festival…
Where's your favourite Christmas getaway?